Personal Mission Statements of 5 Famous CEOs
Looking for some inspiration to help you set some goals?
Here are some personal mission statements from 5 famous CEOs.
Click here to view the article
1. DENISE MORRISON, CEO OF CAMPBELL SOUP COMPANY
"To serve as a leader, live a balanced life, and apply ethical principles to make a significant difference."
In an Morrison said, "The personal mission statement was important for me because I believe that you can't lead others unless you have a strong sense of who you are and what you stand for. For me, living a balanced life means nurturing the academic, physical, and spiritual aspects of my life so I can maintain a sense of well-being and self-esteem."
2. JOEL MANBY, CEO OF HERSCHEND FAMILY ENTERTAINMENT
"I define personal success as being consistent to my own personal mission statement: to love God and love others."
Manby's company, Herschend Family Entertainment, owns and operates 26 family-oriented theme parks and attractions across the United States, including Dollywood and the Harlem Globetrotters. He told Skip Prichard that he achieves his personal mission statement in his own endeavors, but feels blessed to be able to achieve it in a growing, profitable business.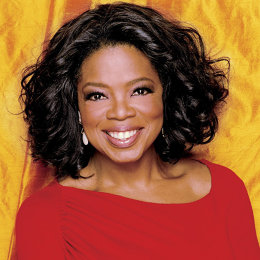 3. OPRAH WINFREY, FOUNDER OF OWN, THE OPRAH WINFREY NETWORK
"To be a teacher. And to be known for inspiring my students to be more than they thought they could be."
In an issue of O magazine, Winfrey recalls watching her grandmother churn butter and wash clothes in a cast-iron pot in the yard. A small voice inside of her told her that her life would be more than hanging clothes on a line. She eventually realized she wanted to be a teacher, but "I never imagined it would be on TV," she writes.
4. SIR RICHARD BRANSON, FOUNDER OF THE VIRGIN GROUP
"To have fun in [my] journey through life and learn from [my] mistakes."
Branson shared his personal mission statement in an interview with Motivated magazine. He added that "In business, know how to be a good leader and always try to bring out the best in people. It's very simple: listen to them, trust in them, believe in them, respect them, and let them have a go!"
5. AMANDA STEINBERG, FOUNDER OF DAILYWORTH.COM
"To use my gifts of intelligence, charisma, and serial optimism to cultivate the self-worth and net-worth of women around the world."
Steinberg launched DailyWorth in 2009 to help women build wealth. Since then, she's grown her site to more than 1 million subscribers. "I believe financially empowered women are the key to world peace," she says.